By Emily Cassidy | AgMag
June 15, 2016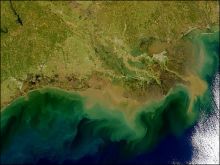 Near record concentrations of farm pollution were measured flowing down the Mississippi River in May, according to a recently published report.
The big river's nitrogen concentration is nearing its highest level since 1997, when record-keeping began. According to the U.S. Geological Survey the river's nitrogen concentrations have been above normal  every month this year.
Because of high levels of nitrogen and phosphorus, another component of agricultural fertilizers, researchers at Louisiana State University and the Louisiana Universities Marine Consortium estimate that by next month, that the Dead Zone that plagues the Gulf of Mexico will measure about 6,800 square miles, roughly the size of Connecticut.  That's 29 percent larger than average and slightly larger than last year's.
The latest Mississippi River water quality measurements demonstrate that spending $46 billion since 1997 to encourage farmers to reduce farm pollution voluntarily simply has not worked.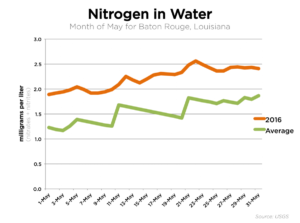 Farm pollution harms more than aquatic life.
Water pollution caused by nitrogen and phosphorus fertilizers causes the rapid growth of toxic algae. This uncontrolled algae bloom can lead to dangerously low levels of oxygen, or hypoxia, and the spread of a toxin known as cyanobacteria.  People exposed to cyanobacteria while swimming or fishing can experience abdominal pain, nausea, vomiting, diarrhea, sore throat, dry cough, headache, blistering of the mouth, and sometimes even liver failure.
Scientists report more than 350 cases of hypoxia, or dead zones, around the world.
Nitrates in Mississippi River water make their way into the drinking water of millions of Americans. Studies have found that drinking water high in nitrates could double a person's chances of getting bladder, thyroid and ovarian cancer.
EWG's 2016 study Fooling Ourselves found voluntary conservation incentives had largely failed to address Iowa's water quality problems because many farmers only briefly adopted practices to reduce pollution. For example, the study found that more acres of pollution-filtering buffers of trees and grasses were lost in Iowa between 2011 and 2014 than were added.
Buffer acres, cover crops, and better fertilizer management could go a long way to reducing toxic farm pollution. In combination, these simple practices could reduce farm runoff by 30 percent,  according to a study by the Environmental Defense Fund.
Source: http://www.ewg.org/agmag/2016/06/near-record-farm-pollution-found-mississippi-river