2019 Shelfwide Cruise: July 22 - July 31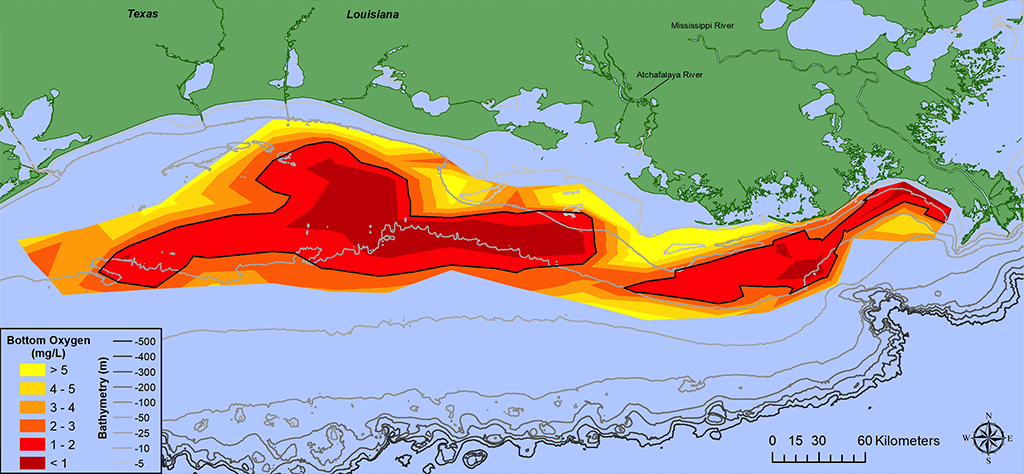 Jul 22, 2019 - Prologue
 

We all expected a large 'dead zone' this summer. The river has been above flood stage, and well above the 1935 - present maximum since mid-June. As a result, the Bonnet Carré Spillway north of New Orleans has been opened twice delivering Mississippi River fresh water and nutrients to Lake Pontchartrain, Lake Borgne, Mississippi Sound, and offshore waters between the Chandeleur Islands and Mississippi barrier islands. Dense and toxic cyanobacterial blooms were generated in the wake of these nutrient-enrichment events.

Prior to Tropical Storm Barry, the NMFS SEAMAP groundfish survey cruise documented extensive hypoxia in the western Louisiana coastal region and well into Texas. SEAMAP did not cover the area in coastal Louisiana where others found hypoxia via other sources of information. And, documented hypoxia east of the Mississippi River for the stations they occupied similar to hypoxia distributions in 2011 mapped by Rabalais et al.

Then came TS Barry, but then it didn't. While it wasn't coming ashore, it brought strong winds and high waves to the area where summer hypoxia normally develops. While it was projected to be high surge and waves, there was a 6-ft storm surge predicted for the Mississippi River. Water this high along with the swollen river would jeopardize levees throughout the lower Mississippi River and the city of New Orleans. While Barry was indecisive about coming ashore, the winds and waves picked up along the Louisiana coast, especially in the area of the Atchafalaya delta and to the west.

I normally get media calls at the time of the forecast (many this year) and after the mapping cruise (yet to be seen). A second set of calls came this year prior to TS Barry with questions as to what the storm would do to hypoxia and the toxic cyanobacterial bloom.

I checked my crystal ball and discovered little that would help me. However, I had opinions anyway. The winds and waves would disrupt hypoxia, but it may redevelop by the time we depart on the cruise midnight on the 22nd, Monday night. My prediction is that hypoxia would develop more quickly on the eastern side of the study area than on the west shelf. However, there remains flood level discharge from the Atchafalaya to the western coastal waters and to the eastern side from the Mississippi River.

As for the cyanobacterial blooms, I predicted that they would be dissipated. These types of blooms like hot and calm water, which was prevalent when they occurred, but would likely dissipate during the storm. There would remain cells to propagate should the waters calm down and the water was warm. Bonnet Carre will remain open until an unknown time. My crystal ball cannot give me the extent of cyanobacterial bloom at this time, but some satellite views indicate they are reforming.

With this, we will begin loading the ship, RV Pelican, and depart later tonight. Still do not know if I want to go east or head to the west. Hours left to ponder.
Jul 23, 2019 - Day 1
Daily Log: 

Water, water, everywhere. And very little of it over salinity of 15. Finding the Mississippi River "zero" salinity end point did not take time. We entered Southwest Pass around 0830, started at 6 salinity, found 1 salinity soon thereafter, then 10, finally 15, but we could not find anything higher for our conservative mixing curve. The salinity was 0 to 5 for most of the area west of the Mississippi en route to A'1, closest to shore. Two of five stations were hypoxic.  We left the offshore end of transect A', to head to the offshore end of transect A at A7, working our way to shore.

There were the usual learning how to do things again for the first couple of stations. Everything is working so smoothly now. We have a great crew, split into two 12 hour shifts:

Nancy Rabalais, LSU, Chief Scientist
Wendy Morrison, LUMCON, Co-Chief Scientist
Gene Turner, LSU Professor, Co-Principal Investigator
Andrea Price, LUMCON/LSU Postdoctoral Research Association
Gina Woods, LUMCON Researcher
Andrew Dial, LSU Visiting Scholar
Ruth Akintoye, LSU Graduate Student
Michelle "Shelley" Anderson, LSU Graduate Student
Songjie He, LSU Postdoctoral Research Associate
Jocelyn Forsman, LSU Graduate Student
Kate Doering, Gulf of Mexico Program Researcher

Little success at useful Winkler titrations, despite many attempts. There is always tomorrow.

And, if we hadn't had enough trouble with Tropical Storm Barry before this cruise, there is something brewing in the western part of our study area.

From the Night Shifters (aka the Night Furies): 

We picked up the baton from the day crew at 1900 hours at station A7 and spent the night working our way inshore to A1.  As the Day Crew alluded, we have to reacquaint ourselves with the sampling routine (didn't we just do this last year about this time?) and so the first few stations take a bit longer.  We picked up hypoxia at A3 and it persisted to A1, where we bid it adieu and headed to the B transect.  The almost 3 hour transit was a welcome relief and allowed us to catch up on reading chlorophylls, doing Winklers, then preparatory chores to get ready for B1. We even had time to squeeze in a bit of T.V.  From B1 you can see the lights of Port Fourchon on the horizon, reminding us that we are not truly alone in this sea of darkness (cloudy and rainy so no stars or rig lights tonight).  The rain clouds were kind enough to part once or twice, providing a glimpse of a crystal clear half moon….a little more significant than usual, having watched many Apollo 11 specials this past week commemorating the 50th anniversary of the first humans landing on the moon.  Hypoxia showed up again at B4, but we'll have to wait till tonight to find out if B5 was similarly hypoxic….because it's time to turn it over to the day crew.

Critters observed overnight:  four small sharks showed up at one station (pretty exciting!), a few swimming crabs, and about ten or so larval fish found their way into our surface sampling bucket.  These are so cool to see up close.  With their body mostly translucent, all you can see are their black eyes lurching about as they swim. Time for bed, per chance to dream….
Jul 24, 2019 - Day 2
Day Shift: 

Well, well. More forecasts on the potential weather disturbance. Please note: it is moving in our direction, but coastal and marine forecast calls for mostly 1-2 foot seas. Not what we are experiencing out on the Pelican. 20 kn winds from 50 degrees, and 2-4, sloppy. Definitely some five footers out there.

More Winkler success overnight with Wendy. The high and low values are in steep gradients near surface and near bottom. Difficult to target with a Niskin bottle on the rosette. Nancy is on target for specific dissolved oxygen values today to collect for analysis. Too much up and down with the ship makes it difficult to get a good value from either the CTD or our YSI6820.

We found a few more stations on transect B towards the offshore end, but were able to close it off at station B6 to make up for lost time. Heading west to C9old now, 30 m on the offshore end of transect C. [Let me know if you ever want to know about C9, C9new, C9old, C9nunu, and C9B. Time to catch up on too many emails in the last day.

B6 was in 21 m and not hypoxic. C9, however, is in 30 m and was thought to be well out of hypoxia (she who knows hypoxia). It was not, it was well below 1 mg/l. So the beginning of trek farther offshore. C9B, C10B were also well below 2 mg/l. We were able to close off the offshore end of the transect in 45 m water depth at C11. Now headed back toward shore to C8 to continue the mapping. We are definitely behind schedule now. My crystal ball fails me again. Made progress with the Winklers today and starting to fill in numbers for regressions. That is when we post-calculate, if necessary, and start keeping track of the bottom oxygen for the eventual map. It will eventually be posted on the web site and added to daily as we head westward.

BTW, the likelihood of the swirling winds and waters on the western part of our study area is down to a 10%, from 20%, possibility of further development. The stalled cold front has made the day time a real treat weather-wise with the cooler temperatures.

Night Furies Roll Call: 

Wendy….check
Gina…check
Kate….check
Songjie…check
Jocelyn….check

Everyone accounted for? Let's rock!

We took over from the Day Crew at C7 (hypoxic), working our way shoreward. This meant we had the pleasure of being the ones to sample C6C, the crown jewel of the C transect.  It's an impressive manned rig where Nancy had oxygen meters affixed to one of the support legs for many years. These meters were serviced by scuba diving down the leg, replacing the meters one by one. Nancy logged many a dive here! It's most spectacular to hit this station during the night.  The Pelican eases up as close to the rig as is safe, then sampling operations begin as we drift away.  Never ceases to be exciting. We found hypoxia here and C5, but then no more as far in as C1 (right off Terrebonne Bay; LUMCON is a stone's throw away!).  On the transit from C1 to D'2 chlorophylls were processed, data were entered, boots were removed, a chance to catch our breath. We found hypoxia again at D'2, but that was it for the duration of that line.  The stations are getting a little farther apart, allowing us to get in some picture taking, which is always fun. The Day Crew will take us to the D transect, time for us to sign off for some bunk time.
Jul 25, 2019 - Day 3
Daily Log: 

Long night last night running Winklers for re-calculation of instrument data if needed. It continued today with the stations coming farther apart and few values to be targeted for the regression. Working on the Winkler data and regressions most of the afternoon when enroute to new transect.

Once again the Marine Forecast calls for 1 to 2 foot seas, and it is anything but. Mostly 4 to 5 ft, again with the occasional 6 footer. We found hypoxia on transect D at three of five stations. The upper mixed layer is getting deeper as the waves continue to pound us. The nearer shore the calmer, because winds are from the north, and we are somewhat protected by the land mass. Additional samples taken by Kanchan Maiti's crew today on transect D. Transect E begins to pick up hypoxia at station E3 as we head offshore.

Just a busy day. Not much excitement except for the excellent shrimp bo-boys at lunch. Someone keeps getting package after package of Oreos out. Tempting.

Night Furies Roll Call: 

Wendy….check
Gina…check
Kate….check
Songjie…check
Jocelyn….check
Nancy……what are you still doing up?

Really getting into a routine now.  The distances between stations are getting longer, giving us a little more down time.  We fill these extra minutes with data entry and of course snacking (this is in no way a reflection of Chef Lawrence's cooking…something about being on a boat gives you the munchies). In reviewing the Winkler data it looks like we have filled out the oxygen curve and no more titrations should be necessary (Nancy will give the final word after reviewing the data in the morning), meaning even more time can now be devoted to developing the datasets that will go into producing the maps.

We finished up the E transect that the day crew began (working our way offshore), finding hypoxia at one station. Then it was time to motor over to the F transect (south of the Atchafalaya river) to work our way back to shore.  About the most exciting thing that happened tonight (which is a good thing; uneventfulness is our friend!) was when Eagle Eye Adam (our trusty Marine Technician) spotted a problem with the oxygen sensors about 10 meters into a 40 meter CTD cast. As the CTD was being brought back onboard the deck crew noticed a plastic bag falling off the sensor array….sure enough, when redeployed the oxygen sensors read normally again, indicating that in addition to being a threat to sea life, marine trash can also interfere with science!

Check that: the most exciting thing that happened tonight could have been when Steady Hand Skylar (our winch operator) burst into song over the radio while confirming a CTD position…..

We now turn the next station (F2A) over to the capable hands of the day crew.  Time to sleep.
Jul 26, 2019 - Day 4
Daily Log: 

Another missed opportunity for the NOAA Coastal and Marine Forecast to redeem itself. But no. We kept waiting for the 1 foot or less, but they were 2 to 4 ft from the middle of transect F to the inshore end. Calmed down a bit on transect G, but no 1 ft to less seas on transect G.

Somewhere on the transit to transect G the winds shifted from the N to ESE then later in the day to SSE and winds dropped to 10 kn. Yeah, but we waited for the seas to relax. Am I too focused on the waves? Yes, for my own comfort and how they might be affecting the low oxygen. The upper water column mixed layer has been getting deeper, but not deeper than about 10 m.

Some Animalia Trivia: small jellyfish in upper water column at two stations. Most likely they are Chrysaora quinquecirrha, commonly known as sea nettles. Another station as we headed offshore was infested with Aurelia aurita, moon jellies. Along with the Aurelia were small pieces of Sargassum seaweed and associated garbage at a front between two water masses.

One of the transect G stations was extremely low in dissolved oxygen, but not approaching anoxia. No hydrogen sulfide smell.

Then the fun animals, bottlenos dolphins. Tursiops truncatus. They were wave riding the swells (i.e., not 1 foot or less) towards the Pelican, several pods of them. I saw one breach completely out of the water far away from the Pelican.

Enough excitement for one day shift. The stations are becoming pretty routine, along with the wonder as to whether it will be hypoxic or not.

Night Furies Roll Call: 

Wendy….check
Gina…check
Kate….check
Songjie…check
Jocelyn….check

Honorary Night Fury Roll Call:
Adam…Roger that
Skylar…Aye, Aye

What a great night!  We woke up to go on station at G6 (not hypoxic) then had about a 2.5 hr transit to H6. Lots of data entry to do, chlorophylls to run….but still with plenty of time to sit in the galley and chill to Kindergarten Cop (see Photo Gallery). The galley is where we generally hang out between stations.  The tables make a nice office space for computers and data sheets, all facing the T.V.  Nighttime on the Pelican is unique….although we are conducting the same sampling operations as the day shift, there is a sense of quiet and calm permeating the ship, perhaps due to the blanket of darkness around us that prevents us from seeing farther than a few yards in every direction.

But we are not alone in this sea of darkness….Within minutes of arriving at H6 a flurry of sea life arrived at the starboard side rail where we deploy the equipment, attracted by the light. A huge school of what looked like blue runner were popping and feeding at the surface, unfazed by our sampling gear. Two saltwater eels joined the fray and then a small Mahi mahi flashed by, close enough to get a good look, but so fast and then gone! Throw in some needle fish, a small crab or two…the water was teeming with biomass! Wonderful!  But the next station (H5) held even more in store for us: a pod of dolphins began circling the periphery, just outside the light. Once your eyes were accustomed, you could see them so easily.  No matter how many times you see dolphins in the wild you still feel exhilaration. They stayed with us for the entire 40 minutes or so on station and when we arrived at H4….they were back! Of course we can't be sure that they were the same pod, but the fact that they were there as soon as we were out on deck suggests they were. Unfortunately they did not show up at H3, but there were still lots of the "usual suspects" at the remainder of the H stations (check out the Photo Gallery). We were able to close out the H line at H1, then point the ship in the direction of I1, which we will leave for the day crew. As far as hypoxia on the H transect (with all of the excitement, we almost forgot why we were here!), there were two stations where the bottom oxygen was incredibly low. We will see what tomorrow night brings!
Jul 27, 2019 - Day 5
Daily Log 

I give up. Three- to four-foot swells, until end of shift with occasional five-foot swells. Guess what the marine forecast called for. Winds were 12.5 to 14 kn during the day, with a shift from southeast in the morning to from the south at end of day shift.

We started our 7 am shift with a two hour run from the inshore end of transect H to the inshore end of transect I. Time for some data entry and QA/QC work.

On transect I, the two inshore stations from 11 to 15 m were not hypoxic. The upper mixed layer was 6 to 11 m deep. We entered back into hypoxic waters in 17 m where the upper mixed layer was 16 m deep, then less than 0.5 mg/l to the 20-m bottom at about 0.3 m/l. Then we found a strong oxycline at 16 m to the bottom (20 m) at the next station with oxygen at about 0.3 mg/l. At the first really low oxygen station on the transect, a lesser blue crab was seen swimming at the surface. At the next two stations of really low oxygen, sea nettle jellyfish were in the surface waters. At the last station of the day shift, I7, the dissolved oxygen was less than 2 mg/l from 20 to 30 m water depth.

Onward, farther offshore to station I8 to try to close off this transect. And, we did: about 3 mg/l at 20-30 m water depth to a bottom depth of about 35 m. Next, heading west to the offshore end of transect K to begin another line of stations..

The first map went on the web today. We have plenty of data to keep mapping. Eventually we will post surface salinity and surface chlorophyll maps. The surface salinity map will show a strong signal of the Mississippi and Atchafalaya river discharges, which have just fallen below the long-term maximum. [See chart in Mississippi River discharge section of the web site.]

Night Furies Roll Call: 

Clipboard Wendy….check
YSI Gina…check
Chlorophyll Kate….check
Bucket Warrior #1 Songjie…check
Bucket Warrior #2 Jocelyn….check

Honorary Night Fury Roll Call:
Oreo winner Adam…you betcha
Rocketman Skylar…affirmative

The Man Dirk (a.k.a "G.P.")…present

We woke up just in time to take over the last station of the I transect (I8) from the day shift, then after a two'ish hour transit, hello J8!  The water on this line is so incredibly blue and clear and anything stirring in the top several feet is easily visible under the ship's light.  We noticed an amorphous large cloud approaching the surface, undulating, changing shape, and only when it reached the surface did we realize it was a large school of very tiny fish (approximately 2 inches or so).  We were reminded of that scene in "Finding Nemo" but were disappointed when this school didn't communicate with us! At the next station (J7) we saw our first squid of the cruise (see the Photo Gallery), swimming around the CTD cable, feeding on the critters attracted to our light.  Kate and Gina swear one squirted water in their direction!

On one of the longer transits between stations we went to the bow of the ship to sky watch (shame on you Gina for not telling Adam!!!!).  It is very dark this far offshore and in an area with fewer rigs.  We stood for several minutes, the wind in our faces, the brilliant stars above us, with only the sounds of the ship's engine and the waves crashing off the bow.  Sharp-eyed Kate pointed out that there were dolphins riding the bow wake and sure enough, after our eyes adjusted to the dark a bit better, you could glimpse large dark shadows breaking in and out of the water ahead of the bow, with the sound of a periodic splash as they jumped out of the wake. It is times like these that remind us we have the best job ever! But duty calls at regular intervals and we must hearken to the call of "On Station." We found hypoxia from J7 to J2 and as we finished up some miscellaneous final duties, the day shift took us to J1, which closed out the line. As we sign off, the ship is now heading west to K2 (that's the hypoxia station, not the mountain, or at least we hope it is).
Jul 28, 2019 - Day 6
Daily Log: 

The gap narrows between the Coastal and Marine Forecast for 1 foot or less to the actual 2 to 3 foot swells. No more to say.

Quite a bit of hypoxia out here on the southwestern Louisiana coast, in depths of 13 to 30 m. Lower surface water salinity extends well to the west and offshore. This is remnants of the extensive period of river discharge well over the maximum since 1935. The Atchafalaya River carries about one-third of the total Mississippi River discharge. We will be posting a salinity map for surface waters at the end of the research cruise. The bays on the Bonnet Carré Spillway were beginning to be closed on 7-23 as the Mississippi River continues to drop below the maximum record since 1935. [See Mississippi River discharge tab.]
We will also post a surface chlorophyll a map, but areas of high chlorophyll a biomass are limited this summer. Some supersaturated dissolved oxygen waters were documented in the Louisiana Bight, indicating high photosynthesis rates. In addition, high phaeopigment concentrations (degradation products of chlorophyll a) were documented in bottom waters that were hypoxic, indicating the flux of organic matter and bacterial respiration of it drawing down the oxygen levels.

Wildlife today was a small school of small fish. Seems the night furies get all the excitement.

Night Furies Roll Call: 

Crystal Tree Wendy….check
Starry Sky Gina…check
Night Vision Kate….check
Sea Pirate Songjie…check
Mighty Jocelyn….check

Honorary Night Fury Roll Call:
Space-bar-Niskin-bottle-firing Adam…here
Red Bull Skylar…here, raring to go!!!!!!!!!!!!!!!!!!!

Tons of Fun Dirk (a.k.a "G.P.")…with bells on

We took over from the day shift at K8 then directed the ship to the S transect. This is the difficult part of the trip on a couple of fronts. The stations are all now about 1.5 to 2 hours apart, and although this was nice at first, enabling us to catch our breaths after the intense pace of the first three or so days, these intervals of inactivity become monotonous and tiring in a way that is difficult to explain. The second challenge is trying to manage the ship days we have left while ensuring we have mapped the entire hypoxic extent.  This is where Nancy's expertise and instinct really come into play (she's known affectionately as the "Hypoxia Queen" for a reason). This is more straightforward in some years than others…..stay tuned!

Things are pretty routine by now, so we squeeze in a little bit more fun (it just wouldn't be 4 am unless Skylar was serenading us during the CTD cast).  One station brought real excitement when 3 small mahi mahi (swimming so closely side by side that they looked attached) frolicked around so close to the ship that we could almost reach out and touch/grab them (NO, Adam, they're too small!).  If you're not familiar with this type of fish, google it for pictures.  Spectacularly iridescent. Other than those, our nightly species list was fairly unremarkable, with the usual needlefish and a few small squid here. We now have fewer sea days ahead of us than behind us….
Jul 29, 2019 - Day 7
Daily Log: 

Give me a break! While it was calm during the night shift, we started out with 2 to 3 ft swells and ended up with 3 to 4 ft swells by the end of the afternoon.

That pesky hypoxia keeps following us around. Or, we are unable to escape it. We have been working off Galveston Bay and a line of stations farther to west. We have fewer and fewer stations with hypoxia, but it still exists, just at the bottom at some stations. The upper mixed layer is deep, about 17 to 20 m. We are nearing the end, but it keeps slipping out of our grasp

Animal sightings are much fewer in the day, as opposed to the ship's lights drawing in fish, squid, and crabs. We did, however, see a shark about four feet long today cruising around the CTD near the surface. That was exciting. Besides, it is Shark Fest, and we watched many shark documentaries on the television today between stations and transects. If work was becoming routine yesterday, it was more so today. Maybe the night furies will have something interesting to report.

Night Furies Roll Call: 

You know the drill…..
Everyone present!

It looks like the day shift did the entire T transect while we slept, as well as two stations on the U transect…we're well into Texas now.  As we work to finish off the U, we realize our journey is almost at an end.  This makes the majority of us happy because as much as we enjoy this experience, we have left people/tasks/responsibilities back onshore that we're anxious to get back to!!!!  Stay tuned!
Jul 30, 2019 - Epilogue
Daily Log: 

We're getting close to closing up the western end of the hypoxic zone for 2019. We had a poll to guess which transect would be our last. The guesses continued to fall off the mark as we went from K to S to T to U. Andrew and Ruth won the poll; they guessed U.

The day shift tried to close it off, but was two stations short at 7 pm. The night furies finally hit the last station around 9 pm.

We started our way back to Cocodrie, but stopped on the J transect the next afternoon to try out the mini-ROV that Gene Turner brought with him. The intent was to try to video the bottom sediments to document what was or was not there. The instrument did not have enough motor power to be able to manipulate it well, and the WiFi connection kept breaking off. Short experiment, but we brought the experimental ROV back safely to the ship.

So what is left to do before reaching the Pelican dock at 4 am on 7-31. There are plenty of remaining data to enter and QA/QC, final maps to be generated, the press release to be written. And, some sleep to be caught up on. And, the swaying motion in our heads to go away soon we hope.

Ode to the 'Dead Zone' to the tune of "America"

By Andrew Dial and the Day Shift

With nitrogen and phosphorus
From amber waves of grain
Down Mississippi River's flood
Out the deltaic plain
Hypoxia! Hypoxia!
Come fill our CTD
And make a nice fine
Data line

From the night furies: 

Night Furies out.
MIC DROP