2018 Shelfwide Cruise: July 23 - July 30
Cruise Dedication
The 2018 shelf-wide cruise to determine the extent of low oxygen bottom waters on the Louisiana-Texas continental shelf is dedicated to the memory of Dr. Wesley J. Tunnell, Jr. who passed away on Saturday, July 14, 2018, after a long successful and not successful battle with cancer.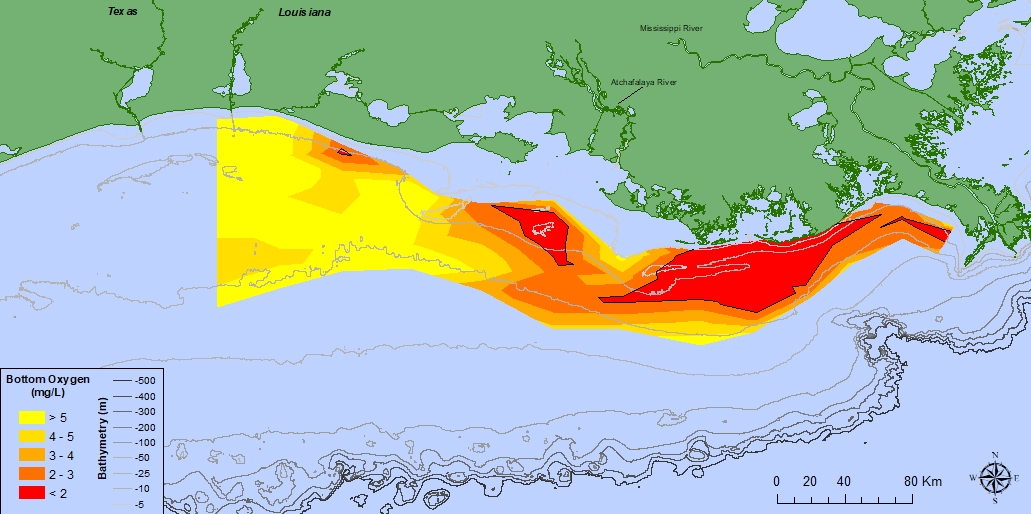 Nancy N. Rabalais, LSU & LUMCON, Principal Investigator, Chief Scientist
Gene Turner, LSU, Principal Investigator
Wendy Morrison (LUMCON), co-chief scientist
Andrea Price (LSU), post-doctoral research associate
Trevor Meckley (NOAA, NCCOS), NOAA representative
Mike Scaboo (Univ Delaware), graduate student, pCO2 and pH re hypoxia
Andy Montgomery (Univ Georgia), graduate student, nitrification/denitrification
Gina Woods (LUMCON), research assistant
Richard Grady, USM student, EPA Gulf of Mexico Program intern
Kathleen Doering, EPA Gulf of Mexico Program intern
Disclaimer:
The final dissolved oxygen data will be corrected, as necessary, from linear regression with the Winkler titrations over a range of 0.22 to 8.43 mg/L. Initial observations indicate correction, but the f-factor for the Winkler standard remains to be verified. Any corrected data will be reflected in other derived measurements.
Salinity data not yet verified with PortaSal samples.
CTD data remain to be post-processed with ALIGN CTD to be applied.
Instrumentation was calibrated pre- and post-cruise according to manufacturer's specifications and standard method procedures were applied for several variables, not yet calculated, according to several LUMCON EPA-approved Quality Assurance Project Plans.
Data collected as part of process studies remain to be analyzed and synthesized.
Final QA/QC'd data will be submitted to NOAA NODC within two years of collection.