2017 Shelfwide Cruise: July 24 - July 31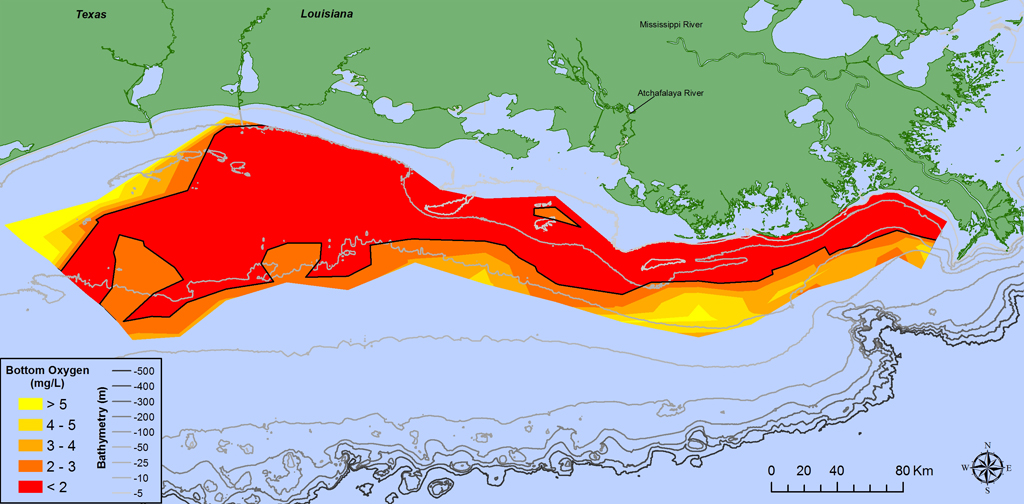 Jul 24, 2017 - Day 1
 

Departure at midnight with a steam directly to the mouth of Southwest Pass. We were able to get the salinity range we needed to develop a mixing curve in no time at all. Then to station A'1 at the earliest we have every gotten started on the transects. BUT, then the time on station, with some complications, made it one of the longest stations ever at this location. It always takes time to shake down the first station. Very low oxygen values on the nearshore end of transect A'1, as expected from data from the Wei-Jun Cai cruise the week before.

"Night" crew came on at 7 pm, finished the A' stations, headed to transect A, then completed the line of stations from offshore to onshore. Again, extremely low oxygen values in the bottom waters at the nearshore end of transect A. At all those stations, lots of blue crabs swimming at the surface to avoid the low oxygen below. Lots of needle fish, and some menhaden. "Something" shaped like a small shark, but it was too far out of the lights for us to see.

Working hard to get a range of oxygen values for Winkler titrations so that we can correct DO values as necessary. (Go Wendy!) The CTD primary sensor matched the Winkler value at dockside, but not the YSI6820. And, based on "field" values, we will be doing some adjusting of DO. More values needed before we can start a "hypoxia" map.

Both crews too busy to think or do anything but focus on the first day. Photos and more detail to come. Oh, and 4 ft swells with sloppy side seas for the "day" crew, and flat calm for the "night" crew, as always.
Jul 25, 2017 - Day 2
Dayshift Log 

Another day of station-to-station and no rest for anyone. Very low oxygen on the nearshore end of transect B. Spent some time around the LOOP (Louisiana Offshore Oil Port) and saw a few supertankers waiting to offload. The pipeline from the LOOP (between stations B8 and B9) delivers the offloaded oil to a pumping station on land north of Port Fourchon and into the rest of the U.S. It is a secure facility with no ships crossing into the periphery. B52 bombers were making runs after 9/11.

Continue to transect C and a similar pattern—very low DO from 20 m to very close to shore. Continuous Winkler titrations to correct DO values as needed. Almost done with a full DO range. One hiccup on the new Mettler G20S compact titrator with bubbles, but recovered and is running well. For those of you who read these blogs for shopping tips, we highly recommend this titrator for Winklers. Set everything up with programmed values, hit the button, and voila a number.

Some of the "extra" science being conducted on board this summer is collecting surface sediment samples and surface water for examination of dinoflagellate cysts. Samples are being collected by Andrea Price, postdoctoral research associate, LSU. The surface sediment samples will be used by Andrea, who will be measuring the process lengths (that's "dino cyst" talk) of the genus Lingulodinium to determine if these measurements can be used as a proxy for surface water salinity. Some of the sediment will go to Haifeng Gu who will look for cysts for a new Gymnodinium species from previous Gulf of Mexico samples. Then, more sediment will go to Kenneth Mertens for germination experiments and molecular work on dinoflagellate cysts (indeterminate, new or rare species types) identified from previous Gulf of Mexico work. The surface water phytoplankton samples will go to Kenneth Mertens for single cell PCR and SEM.

From the Sleepy Night Crew 

What happened to Shift #1??????? All a blur with no time for anything other than sample, sample, sample!

But tonight, with bellies full of tacos and burritos (Thanks Jerome!), the night shifters were fueled up to take on the historic transect C. The day shift got us started at the outermost C9. We picked up hypoxia at the massive oil platform that is our C6C station. There were lots of blue crabs ranging from adults to juveniles swimming at the surface in search of oxygen, and Needlefish, Gulf menhaden and a few shrimp also swam in the spotlight as the CTD was deployed. Luckily, the seas were calm which made it easy to snap some great photos of the oil platform at C6C (see our Photos section). At night, it's surreal, looking like a city hanging out in the Gulf.

We found hypoxia all the way in to C1, which is right off West Timbalier Island……LUMCON is just a stone's throw away…. It's 3am….wonder who's on security duty tonight? As we began the approximately 2 hour trek toward the D' transect we had a chance to catch up on miscellaneous tasks that had not been possible overnight due to the short time between stations. We picked up D'2 just as day was breaking (at least we think that's what it was, but it's possible our eyes have adapted into night vision). We approached D'3 right at 6:57am, technically still our shift, but the day crew blessedly volunteered to take it for us since we were at the end of our wits (almost!).

Another one in the books, time to rest, recoup, because tomorrow (tonight) is another day (night)!
Jul 26, 2017 - Day 3
Dayshift Log 

Another day of station-to-station and no rest for anyone. Very low oxygen on the nearshore end…… Does this sound like a repeat? It is, except now it reads low DO at the nearshore stations of transects D and E. A few more successful box cores, net tows (read below) and water for Celeste (read tomorrow). Waters remain very calm, as opposed to just calm. Nice atmosphere to work in. First half day of sloppy seas and 4-ft swells was anomalous.

The visiting scientist of the day is Matt Kupchik, postdoctoral research associate at LSU. He is interested in microplastics as part of a larger program with Mark Benfield of LSU. He has been sieving water from the Niskin bottles and taking neuston net samples. The Niskin samples are lower volume and represent upper mixed water column and lower mixed water column. The neuston net floats at the surface water interface, is towed at 2 kn for a prescribed time, and is instrumented with a plankton net counter. The project team has been taking microplastics samples in the Mississippi River, which seems to be a major source of plastic to the Gulf of Mexico. Matt is focusing on the inner continental shelf as an indicator of Mississippi River input. One neuston tow captured many doliolids, a typical gelatinous zooplankter from the summer season in this area.

From the Night Trippers 

The shift began much like the previous two nights. What day is it? Where are we? How much farther to station? Then the brain cells kicked into gear and the night was underway! We picked up the baton from the day crew at E1, found hypoxia, tried a box core, too sandy, too shallow. Tried another box core at E3 (deeper, softer bottom)…success. We finished the E line at E4, then turned toward the historic F transect, which is south of the Atchafalaya. The two-hour transit was like a wonderful gift after the intense pace of the prior 2 days. Still working, but at least you can do data entry sitting down! Lots of critters tonight: Blue crabs feasting on small minnows, small eels, the usual needlefish. The sharp eyes of the deck crew caught sight of a translucent fish, which after some discussion and googling, yielded a decision of ribbonfish. The darker pigments concentrated in the ribbonfish head were the most visible part of this beautiful, delicate looking fish…As we prepare to go off shift to the comfort and darkness of our bunks, we wonder what new sights await us tomorrow night.
Jul 27, 2017 - Day 4
Dayshift Log 

CALM and REPETITIVE seem to be the operational words for the mid-way point of the 2017 shelfwide hypoxia cruise.

The map uploaded last night (thank you Leslie) shows a continuous band of low oxygen water from Southwest Pass of the Mississippi River to at least transect F. Continued work on the G and H lines through the day and into the night show this extends at least through those transects. Check for a new map sometime on Friday. We expect more and are getting tight on time.

The "visiting scientist" today is Celeste Lanclois. She is a graduate student in the lab of Cameron Thrash, microbial ecologist at LSU. The Thrash lab has worked with Olivia Mason's lab at Florida State University on earlier studies of the microbial community (genomic) associated with the low oxygen waters of the Louisiana shelf. More recently Cameron has focused on the Mississippi River as a source of microbes to the Gulf of Mexico, along with the outflow of other bays and estuaries. Celeste is taking surface water samples in nearshore waters offshore of the Thrash lab target areas (Bay Pomme de Or, Terrebonne Bay,

Atchafalaya River Delta, Freshwater City, and the Calcasieu Jetties). Water will be size fraction filtered for later metagenomic and transcriptomic sequencing.

From the Night Trippers 

The night crew was feeling almost civilized again, the insane pace of the first 2 days fading a bit in memory. Catching up on sleep has helped, as has the longer transit times between stations. The extra BOD samples collected at a frantic pace the first couple of days to generate the oxygen sensor comparisons are no longer needed and the Winkler titrations have been completed. What a relief…although Wendy sometimes glances longingly at the new Mettler titrator purchased just before the cruise. Nancy, are you sure we don't need just ONE more titration? Station sampling has become a clockwork routine, with everyone knowing where they need to be, what they need to do. Ship slows, hard hats and work vests are donned, sample container buckets taken out on deck, CTD deployed. Inside the tech room we watch the data being sent up by the CTD plotted on computer monitors. Will there be hypoxia? While the CTD is down doing its thing, the deck crew has a chance to glance overboard, watching for the various fauna attracted by the lights. We ponder things like: what was this underwater scene like 10 minutes ago, before we arrived? Imagine swimming around in darkness, then suddenly: ILLUMINATION!

As we move west of the Atchafalaya the water is getting clearer, more blue. Celeste was so excited she was able to get 2 liters of water through her Sterivex 0.2 um filters, the first time on this trip! For 2 stations in a row!

As we bring this shift to a close, we take a little time on the bow of the ship, looking up at the sky. With minimal lights there, the view of the Milky Way is spectacular. A few of us were lucky enough to see a couple of shooting stars. It's humbling to have that much sky above us, so much water below us…something to ponder in our dreams……
Jul 28, 2017 - Day 5
Dayshift Log 

It was like the Eveready Energizer pink bunny. It kept going and going, and we thought it would never stop. We started transect I at 7:30 in the morning (depth of 5.5 m), and we were still going at it at 5:30 pm after 7 stations, when we found a DO concentration above 2 mg/l, but barely, in 31-m water depth. The width across the continental shelf where low oxygen occurs is increasing as we move to the west. The distance across transect I of low DO is 110 km. The general distribution of the LUMCON/LSU hypoxia map is similar to that of Wei-Jun Cai, University of Delaware, (Rabalais is a co-PI on the same NSF Ocean Acidification project).

The visiting scientist today is Wei-Jun Cai, University of Delaware, in absentia. The low oxygen on their cruise from July 7-21 was a disjunct distribution of hypoxia on the southeastern Louisiana shelf and a larger low oxygen area west of the Atchafalaya River. They did not occupy all the same stations as the Rabalais et al. cruise did, and others that Rabalais did not. The NSF collaborative Ocean Acidification project, pH Dynamics and Interactive Effects of Multiple Processes in a River-Dominated Eutrophic Coastal Ocean, is led by Wei-Jun Cai and Nancy Rabalais as co-PIs, with a host of other collaborating scientists. [Baoshan Chen, Najid Hussain. Mike Scaboo, University of Delaware; Zongpei Jiang, Zhejiang University; Kaijun Lu, University of Texas Marine Science Institute; John Lehreter, Dauphin Island Sea Lab; Kanchan Maiti, LSU; Brian Roberts, LUMCON). The large and rapid seasonal decrease in pH of nGOM bottom waters and its link to eutrophication, respiration and hypoxia under the Mississippi River plume provides an ideal natural laboratory to study the interactions between OA and biogeochemical processes.

From the Night Trippers 

Seems hard to believe it is already Friday. Our shift began on the J line at the farthest station offshore, working our way toward land. The day shift found lots of hypoxia and this trend continued, with 3 out of 5 stations on the J transect having bottom oxygen levels below 0.50 mg/l. The distances between stations are greater west of the Atchafalaya, so sometimes we have an hour or more to fill before the next station. This is nice because it allows catch up on data entry and other non-cruise work brought along, but it does mean the night passes VERY slowly. At one point a card game even broke out in the galley. The seas picked up around 3 a.m. and we're experiencing the first true "bumps" on the night shift. A quick check shows that everything is securely tied down or stowed, so we're ready for the transit over to K. Even bumpier at K1 (no hypoxia), but now it's time to pass the baton to the day crew and retire to the comfort of our now rocking bunks.
Jul 29, 2017 - Day 6
Dayshift Log 

Seas definitely up. Estimated at 5-ft swells for K1. NR (a trained wavologist) recently updated to 6 ft. Obviously over-ruled by the weather service for area of C6C. But it appears there is a norther on its way.

The Forecast:

Today
West winds 10 to 15 knots. Seas 3 to 5 feet. Dominant period 4 seconds. Slight chance of showers and thunderstorms in the morning. Showers and thunderstorms likely in the afternoon.

Tonight
Northwest winds 10 to 15 knots. Seas 3 to 5 feet. Dominant period 4 seconds. Chance of showers and thunderstorms.

Sunday
North winds 10 to 15 knots. Seas 2 to 4 feet. Dominant period 4 seconds. Chance of showers and thunderstorms through the day.

Sunday Night
Northeast winds 5 to 10 knots. Seas 2 to 4 feet. Dominant period 4 seconds. Slight chance of showers and thunderstorms.

Seas eventually calmed down. Still swells, but no white caps and choppy waters. Should be calm for the night trippers, as usual.

Another one of those pink bunny days. Transect K took foreeeeeever. Finally closed off the low oxygen at station K8 in 28 m. Sneaking west into Texas waters to transect S at a similar depth to check it out. Surprisingly the oxygen fell below 2 mg/l at S8 just near the bottom.

One of our "resident" scientists is Gene Turner, LSU. Gene is taking surface and bottom water samples for oil (alkanes and aromatics) to compare with similar samples from the 2010 hypoxia cruise during the Deepwater Horizon oil spill. Eurico D'Sa, LSU, (ES&T 2016) found PAH concentrations at prespill conditions after the spill in 2012 and 2013 near the DWH site, but the variable and anomalous levels of fluorescence intensities and DOC concentrations three years after the spill suggested the potential long-term persistence of the oil in the DOC pool in the northern Gulf of Mexico. Gene is also using the oil HC samples to follow inputs of HCs from the Mississippi River onto the adjacent continental shelf. Gene is also assaying the microbial "footprint" to go with hypoxia, by examining how metabolism of 32 substrates is different in surface and bottom waters along the coast and how active the metabolism is in productive waters versus those with more decomposition. This year's data will merge with five previous shelfwide cruises for long-term comparisons.

From the Night Trippers 

Bright lights, Big City was the theme tonight. We awoke to take over at an outermost S station. The S transect is southeast of Galveston, TX, and as we head toward shore it takes us across a major shipping lane (basically an interstate highway in the water). Captain Erick did the math and figured that we would be arriving our S7 station at the same time as two cruise ships and a large cargo ship. Since it would be bad if we all occupied the same space at the same time, Nancy gave the okay to slide our station a little eastward so we would be safely out of the way and yet close enough to our historic station. So station S7 became S7 alt. Word of the cruise ships quickly spread and many rushed to the rail to gaze at these floating cities (see our Photo section). There was talk of jumping ship, as the possibilities of life over there loomed before us, like the ships themselves, but in the end no one took the plunge. The food is probably better over here anyway! Speaking of the crew, we just can't say enough good things about those that pilot the ship, keep the engines running, operate the winches, operate the scientific equipment, cook our food, and basically make our jobs so much easier. A special thank you to the night crew (Ethan, Skylar, and John), who have made this voyage so much fun. It has been a pleasure!

In the wee hours we jumped from the S to the T transect. Like S, the T is also south of Galveston, just a little more west and from here we could see a definite orange hue on the horizon. We're motoring south now though, so it is receding in our wake. The sun comes up, the day crew takes over, time to sleep again, but the Bright lights (Galveston) and Big City (cruise ship) of the night before will stick with us.
Jul 30, 2017 - Day 7
Dayshift Log 

Definitely in Texas now. NR knows, because she is a native. A few lingering hypoxic stations along the S and the T transects in deeper water. These are probably remnants of a larger hypoxic area. Also, the surface salinity values are a bit higher on the onshore and the offshore ends of the transect. Currents have been primarily from the west, except now transects S and T. This would push the surface water mass to the east and remaining Atchafalaya River water with it. We were unable to reach the western end of the hypoxia area because of time constraints on getting the vessel back to the dock for the end of our cruise. The total area will be an estimate for this reason, and the data await final QA/QC.

Changes at NOAA are afoot on this 33rd mid-summer hypoxia research cruise. NOAA National Ocean Service office of Center for Sponsored Coastal Ocean Research (CSCOR) will no longer be a "center" and is renamed to the "Competitive Research Program" in the NOAA National Centers for Coastal Ocean Science (NCCOS). Funding for hypoxia research in the northern Gulf of Mexico has alternately come from NCCOS, CSCOR, NGOMEX, NOS, NECOP, and contributions from U.S. EPA Gulf of Mexico Program, the Louisiana Sea Grant Program, the Louisiana Board of Regents, and the NSF EPSCoR program. The major force has been NOAA and its coastal science programs. This support has generated a "poster child" for long-term environmental monitoring and coastal ocean research. The database is outstanding, serves resource management, and is available for all to use through NODC (now NCEI, National Centers for Environmental Information). The data and research have clarified the linkages the continental Mississippi River watershed and Mississippi River-influenced coastal ocean processes and the adjacent coastal ecosystem. The long-term support is greatly appreciated and acknowledged.

Along with the program shifting organization, Dr. Rob Magnien will be retiring in August. Rob is among the many leaders of coastal ocean programs over the years that have supported land/ocean interactions research. Their hard work to help maintain visibility for the importance of coastal ecosystem and hypoxia research is also greatly appreciated.

From the Night Trippers 

We woke up this afternoon all dressed up and no place to go…..the Pelican had turned toward home.  All throughout the evening there was a nagging feeling that there was something we should be doing.  Were we on station?  Was the CTD back on deck?  Also, this the tough part of the trip for us night shifters:  getting our body clocks back on day time.  Because the ETA back at LUMCON is late afternoon tomorrow (Monday July 31st), the secret is to go back to bed around 3:00 am tonight for a "nap", get up around 10:00 am tomorrow morning, then stay up the rest of the day.  As hard as this aspect is, there is nothing quite like a quiet boat in the wee hours…worth the discomfort at the end.

The seas picked up a great deal tonight, so plans of some preliminary packing had to wait.  Just getting up to pour a cup of coffee was a challenge!  As we get bounced around we realize how incredibly lucky we were to have such calm weather for most of our cruise.  It is so much easier to focus on tasks when your body is not having to fight to stay balanced and upright.  And just ask Nancy how difficult it can be to sleep when your bunk is rocking!  Shelfwide 2017 is now almost in the books.  Back to shore life!
Disclaimer:
The final dissolved oxygen data will be corrected, as necessary, from linear regression with the Winkler titrations over a range of 0.22 to 8.43 mg/L. Initial observations indicate correction, but the f-factor for the Winkler standard remains to be verified. Any corrected data will be reflected in other derived measurements.
Salinity data not yet verified with PortaSal samples.
CTD data remain to be post-processed with ALIGN CTD to be applied.
Instrumentation was calibrated pre- and post-cruise according to manufacturer's specifications and standard method procedures were applied for several variables, not yet calculated, according to several LUMCON EPA-approved Quality Assurance Project Plans.
Data collected as part of process studies remain to be analyzed and synthesized.
Final QA/QC'd data will be submitted to NOAA NODC within two years of collection.