[ 2006 | 2007 | 2008 | 2009 | 2010 | 2011 | 2012 | 2013 | 2014 | 2015 | 2016 | 2017 ]
2015 Shelfwide Cruise: July 28 - August 3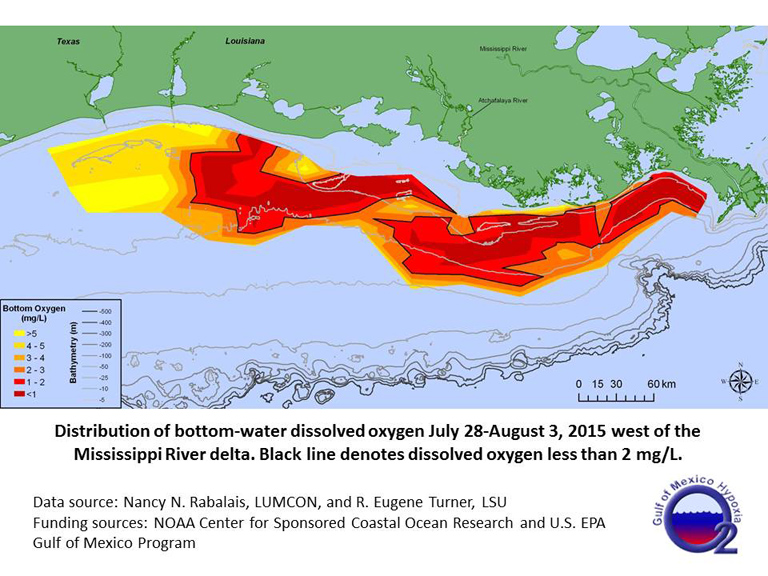 Hypoxia ForecastPress Release
Daily LogMississippi River Discharge
Photo GallerySatellite Image
Cruise ParticipantsMarine Forcast
Dissolved Oxygen MapsAdditional Maps
Graphs
Check back for updates.
Louisiana Universities Marine Consortium - Nancy Rabalais, Chief Scientist

Wendy Morrison, Co-Chief Scientist
Ari Chelsky (for Brian Roberts, LUMCON)
Tory Hebert, Research Assistant
Shiena Normand, Research Assistant

Louisiana State University - Gene Turner, Professor, Co-Principal Investigator

Charlie Milan, Research Associate
Michael Henson, Graduate Student (for Cameron Thrash, Assistant Professor)

Texas A&M University, Corpus Christi - Xinping Hu, Assistant Professor
Florida State University - Lauren Gillies, Graduate Student (for Olivia Mason, FSU)
University of Georgia - Mary Kate Rogener, Graduate Student (for Mandy Joye, UGA)
Your Ocean Consulting - Leslie Smith, Data Manager
Disclaimer:
The final dissolved oxygen data will be corrected, as necessary, from linear regression with the Winkler titrations over a range of 0.22 to 8.43 mg/L. Initial observations indicate correction, but the f-factor for the Winkler standard remains to be verified. Any corrected data will be reflected in other derived measurements.
Salinity data not yet verified with PortaSal samples.
CTD data remain to be post-processed with ALIGN CTD to be applied.
Instrumentation was calibrated pre- and post-cruise according to manufacturer's specifications and standard method procedures were applied for several variables, not yet calculated, according to several LUMCON EPA-approved Quality Assurance Project Plans.
Data collected as part of process studies remain to be analyzed and synthesized.
Final QA/QC'd data will be submitted to NOAA NODC within two years of collection.