2014 Shelfwide Cruise: July 26 - August 3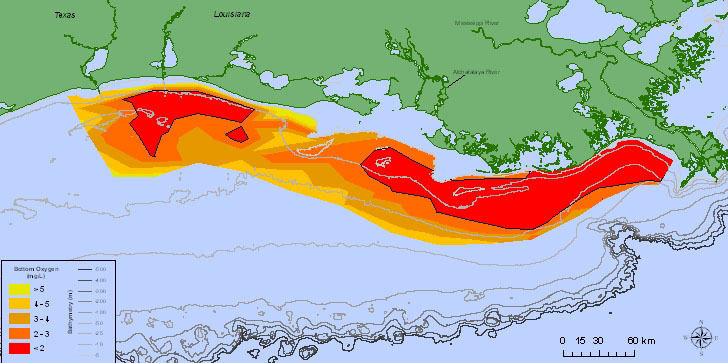 Nancy Rabalais, LUMCON, Wendy Morrison, Amanda Fontenot, Emma Brogdan, and Leslie Smith - general hydrography, chlorophyll , nutrients, suspended sediments, mapping of hypoxia, generation of logs, maps and products for near real-time web site, preparation of data for long-term comparisons, http://www.gulfhypoxia.net
Matthew Rich and Mary Kate Rogener (Brian Roberts, LUMCON, in absentia; Mandy Joye, UGA, in absentia) - nitrogen cycling, mainly denitrification, but also anammox and dissimiliatory nitrate reduction; quantify concentrations of N2O and CH4 in the water column; water column respiration, N2Ar ratios
Gene Turner, LSU - sulfide determinations, microbial bioassays, nutrients, TN, TP, TC, sediment paleoindicators
Jim Lee, LSU - profiles of photosynthetically active radiation, percent transmission and water temperature
Cameron Thrash, LSU, and Lauren Gillies, FSU (Olivia Mason, FSU, in absentia) - proteomic analysis of microbial communities in water and sediments in the hypoxic zone of the Gulf of Mexico
Hongjie Wang, TAMUCC (Xinping Hu, in absentia) - pCO2 and C isotopes in decomposing
Hui Li, Univ Delaware (Deb P Jaisi, in absentia) phosphorus dynamics in hypoxic/normoxic conditions
Kate Pinkerton, U.S. EPA: OWOW- Assessment and Watershed Protection Division, observer for EPA Gulf of Mexico Program
Nancy Rabalais, PI/PD, Louisiana Universities Marine Consortium
Brian Roberts, Co-PI, Louisiana Universities Marine Consortium
Gene Turner, PI/PD, Louisiana State University
Dubravko Justic, Co-PI, Louisiana State University
Chunyan Li, Co-PI, Louisiana State University
Disclaimer:
The final dissolved oxygen data will be corrected, as necessary, from linear regression with the Winkler titrations over a range of 0.22 to 8.43 mg/L. Initial observations indicate correction, but the f-factor for the Winkler standard remains to be verified. Any corrected data will be reflected in other derived measurements.
Salinity data not yet verified with PortaSal samples.
CTD data remain to be post-processed with ALIGN CTD to be applied.
Instrumentation was calibrated pre- and post-cruise according to manufacturer's specifications and standard method procedures were applied for several variables, not yet calculated, according to several LUMCON EPA-approved Quality Assurance Project Plans.
Data collected as part of process studies remain to be analyzed and synthesized.
Final QA/QC'd data will be submitted to NOAA NODC within two years of collection.