2010 Shelfwide Cruise: July 24 - July 31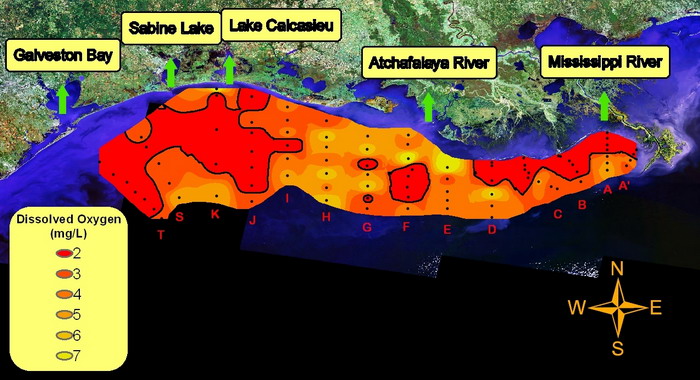 Jul 23, 2010 - Day -1
 

Tropical Wave #3 becomes Tropical Depression #3, Tropical Depression Bonnie, Tropical Storm Bonnie, Tropical Depression Bonnie, and crosses southern Florida into the Gulf of Mexico headed at a rapid speed to the Mississippi River delta, but not gaining in strength.

At the Marine Center in Cocodrie and the BP Command Center, evacuation was the mode primarily because of the expected coastal flooding. Everything was moving north, including cranes needed to place the radiation van on the back deck of the Pelican. The ship was loaded as much as possible without exposing visiting scientists and their equipment to flood waters, which eventually did not occur. Midnight departure did not occur, participants were recommended to stay well north of Cocodrie, and we waited out the storm and crane to the next day.
Jul 24, 2010 - DAY 0
 

Tropical Depression Bonnie approached the Mississippi River but did not bring flood waters into the LUMCON marina, the crane arrived to place the radiation van on the deck of the Pelican, and the remaining cruise participants arrived to unload gear.

Departure from the dock at midnight. Into the storm. What a whimp!
Jul 25, 2010 - Day 1
 

Rather than start at the Mississippi River delta as in other years, the Pelican headed west from Terrebonne Bay to the Atchafalaya River transect F. TS Bonnie had mixed up the oxygen on the eastern part of the study area. Station 9 is in 15 m off Caminada Pass; Station 6 is in 20 m off Terrebonne Bay.

Bottom water dissolved oxygen concentrations prior to cruise departure. Horizontal dashed red line delineates hypoxia (< 2 mg/L). We chose to sample the western area first and allow mixed waters closer to the Mississippi River to settle into more typical conditions for July.

0930 -  

Arrive at F0, sunny, calm, began operations, usual beginning-of-cruise settle-down period, winches, cables.

1130 -  

F1, oxygen decreasing as move into deeper water.
Jul 26, 2010 - Day 2
0900 -  

Rainbows worked. Good box cores for Jennu2019s foraminiferal work. Not sufficient for paleoindicator work (limited sediment accumulation) over hard clay. Many worm tubes to depth in the clay.

1000 -  

Long run to offshore end of trans H.

1300 -  

Begin survey of trans H from southern, deeper end to nearshore.

1900 -  

No oxygen concentrations below 3 mg/L on trans H, continue to nearshore.

2030 -  

Pea Green water at H1, 9% transmission, oxygen down to 2.3 mg/L

2100 -  

Enroute to trans I, inshore, shallow end

2300 -  

Station I1, high chlorophyll biomass, low transmission, oxygen below 3 mg/L
Jul 27, 2010 - Day 3
0000 -  

Continue heading offshore along trans I, winds and waves picking up. Some rain. Saw several sharks along the transect, dashing into and lurking just outside the light on the starboard side. Jenn snaps photos. Mixture of higher and lower oxygen levels, one station below 1 mg/L, but not a consistent trend.

0530 -  

Smells of breakfast. Pineapple being sliced. Surfacing of scientists from below deck.

0600 -  

Finish trans I in 27 m, oxygen near 4 mg/L

0700 -  

Transit to trans J, offshore end

0900 -  

At offshore end of trans J, thought we had started far enough offshore to be out of hypoxia. But, 1.3 mg/L.

1100 -  

Head out to J8 to close it off at 3 mg/L. Weather increasingly degenerating. Rain, windy, high seas.

1130 -  

Head back into shore, with bad waves over bulkhead, windy. Continuous low oxygen into shore.

1500 -  

Station J4, intended for box coring, too rough.

1730 -  

At J3, oxygen barely above 2 mg/L, move inshore to make sure.

1930 -  

At J1, closest station to shore, about 9 m, 1.5 mg/L. Considering waves of 3 to 5 ft, pretty amazing.

1945 -  

Head west to inshore end of trans K.

2200 -  

Moving slowly into K1, shallow, rough and sloppy. CTD to only 1.5 m of the bottom. Well-mixed. YSI to bottom, but canu2019t tell where the bottom is. Headed offshore.

2230 -  

South into 10 m and hypoxia, less than 1 mg/L. Continue offshore on trans K.

2300 -  

Hmm, peach cobbler with vanilla ice cream.
Jul 28, 2010 - Day 4
0100 -  

Farther along trans K in 18 m, lower 7 m of water column close to anoxic.

0300 -  

Close to anoxic, 25 m at K4

0500 -  

Still below 2 mg/L at K6, headed south, still very rough, windy

0645 -  

Day shift dodges the bullet, night shift gets last one on K, above 4 mg/L, headed to west to S8 on the offshore end.

0915 -  

Starting at S8 offshore of Galveston in 27 m and heading into shore. Are we going to close off the hypoxia map on the west today? Oxygen above 4 mg/L, heading inshore.

1045 -  

Much of the same, in 24 m. More to shore

1230 -  

Station S6, oxygen starting to decrease in the 20 m range, below 3 mg/L.

1400 -  

Expected to go low in this area, and it does, 0.4 mg/L.

1515 -  

One more to close off trans S in 16 m, oxygen at 2.4 mg/L

1600 -  

Heading southwest to the inshore end of trans T. Will see what this transect looks like, but we need to head east soon. Donu2019t want to run out of days at sea to complete the job.

1830 -  

Day shift does NOT dodge this one. Starting at station T3. Night shift gets leisurely dinner. Yikes, below 2 mg/L. No time to go inshore, have to move on.

1930 -  

Even lower, farther offshore.

2230 -  

Continue offshore. Apparent at this point that we do not have time to completely map the western extent because of time constraints.

2330 -  

And again, even lower.
Jul 29, 2010 - Day 5
0045 -  

Out to station T8

0130 -  

Incredible, out to 40 m

0300 -  

Finally, just above 2.5 or so, headed to J4 to box core. Get to eat, waiting a long time.

1000 -  

Calm seas awaiting us at J4 to complete in record time; Jenn for foraminiferans, Gene for paleoindicators. Two night team members there for Jenn ;-). Oxygen well below 1 mg/L as headed west and missed the chance to box core and today on return.

1100 -  

Head to E1, stopping along the way for 2 water stations for primary production.

1200 -  

Calm seas and smooth sailing. This long run usually heralds a return to dock. This year it means we start working our way east from trans E, probably around 10 pm.

2130 -  

Begin nearshore end of trans E, well-mixed, high chlorophyll, > 7 mg/L

2300 -  

Oxygen going lower, down to 2.6 mg/L

2350 -  

Fooled you, oxygen 3.4 mg/L. Collected box cores at E2A, 3 for 4. Large remora at surface, where was its companion?
Jul 30, 2010 - DAY 6
0130 -  

Strong oxygen minimum below peak fluorescence about 3 m above 20m water column, but oxygen at bottom was about 4 mg/L.

0245 -  

No low oxygen on trans E, head to offshore end of trans D.

0400 -  

30 m at end of trans D, no low O2, school of needlefish

0530 -  

25 m, no low O2

0700 -  

20 m, n low O2, where is the low O2?

0715 -  

Box core at D3, bottom oxygen at 6 mg/L, winds and seas have picked up, up to 5 ft seas, very difficult to box core. One good box core deep enough to catch the clay layer and keep the mud inside. Finally gave up on a second and a third box core. Live Diopatra cuprea in one of the foram cores.

0845 -  

Head to D2 and D1, then inshore end of C. Feel sleep time coming.

0915 -  

Surprise, low O2 near shore on inside of trans D

0945 -  

And more to beach

1125 -  

And more low O2 in water as shallow as 5 m. Finish off trans D and head to inshore end of trans C

1330 -  

Inshore is where it is at. Value of 0.1 mg/L at C1.

1420 -  

Low O2 continues, can depend on trans C.

1700 -  

Through C6B. Box core at C6B for wild forams.

1840 -  

Stations C7, C8, and C9 above 2 mg/L

2130 -  

Head to offshore end of trans B. Moving along now. In hindsight, maybe could have taken one more transect to the west.

2330 -  

B9 in 38 m, out of low O2, head back inshore. Supertankers offloading.
Jul 31, 2010 - Day 7
0100 -  

Pizza!!

0200 -  

Quite low in 22 m water depth, 0.4 mg/L

0315 -  

Oxygen stays low, heading towards Port Fourchon

0430 -  

Oxygen close to zero all the way to shore. Expected, with winds from the north-northeast creating upwelling favorable conditions. Jubilee at Grand Isle? Are fish jumping from oiled water onto oiled beaches?

0500 -  

On our way to trans A inshore.

0730 -  

Begin trans A on inshore end. Low oxygen on the inshore end, similar to D, C, and B.

0845 -  

Stations close together, making record time. Go Day Crew! Box core at station A3. Too much clay, try another station. Oxygen 0.3 mg/L.

0945 -  

Station A4, still low O2, at 0.75 mg/L.

1030 -  

Station A5, out of low O2. Try box core again. Good one, full to top. Will be good for vertical profiles. Bottom O2 3.5 mg/L.

1245 -  

At end of trans A, oxygen is 4.1 mg/L. Head to offshore end of trans A'.

1430 -  

No low O2 in 34 to 14 m. Oil slick seen on way to A' 2 from A' 3.

1515 -  

A' 2 in 11 m more low oxygen, and again at A' 1 in 8 m. More oil at station A' 1. This finishes the water column stations. Day Crew rocks!

1700 -  

Head to river to get end member.

1800 -  

Begin with 16 psu salinity, work through 12, 5, 2-3.

2115 -  

Long run to get salinity of 18, and tried a long time for 30 psu. Too much fresh water out here.

2200 -  

Give up. Head to the house. ETA, Aug 1, 2010, 0600.

 

THUS ENDS THE DAILY LOG FOR SHELFWIDE 2010
Disclaimer: Data Quality Control and Quality Assurance
The final dissolved oxygen data will be corrected, as necessary, from linear regression with the Winkler titrations over a range of 0.22 to 8.43 mg/L. Initial observations indicate correction, but the f-factor for the Winkler standard remains to be verified. Any corrected data will be reflected in other derived measurements.
Salinity data not yet verified with PortaSal samples.
CTD data remain to be post-processed with ALIGN CTD to be applied.
Instrumentation was calibrated pre- and post-cruise according to manufacturer's specifications and standard method procedures were applied for several variables, not yet calculated, according to several LUMCON EPA-approved Quality Assurance Project Plans.
Data collected as part of process studies remain to be analyzed and synthesized.
Final QA/QC'd data will be submitted to NOAA NODC within two years of collection.