2010 Shelfwide Cruise: July 24 - July 31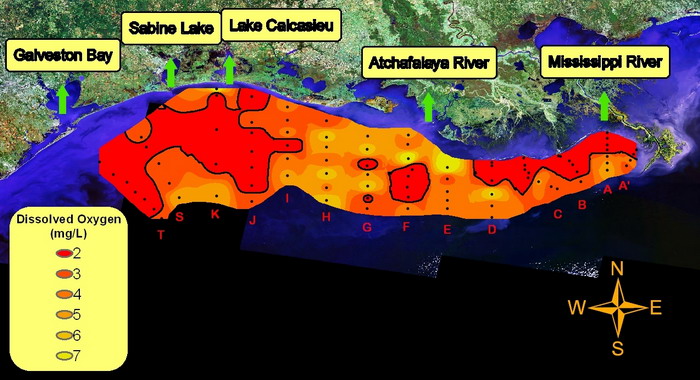 Mapping the extent of hypoxic water (< 2mg/L) across the Louisiana and Texas inner to mid continental shelf, along with associated physical, chemical and biological parameters. Associated rate measurements of biogeochemical processes.
Oxygen isotopes, respiration measurements
POC/PONspatial distribution;
Primary production with C14, nitrogen cycling with N15
Surface pCO2, alkalinity, pH, DIC; bottom water alkalinity, pH
Microassays for nutrient limitation of phytoplankton growth and microbial fingerprinting of substrates, surface and bottom water
Benthic foraminiferal distributions and assessment of living individuals (stating techniques) with depth in sediment cores
Sediment cores for paleoindicators of productivity and oxygen stress
Potential collection of water column and sediments for petroleum hydrocarbons
Nancy Rabalais, Louisiana Universities Marine Consortium
Brian Roberts, Louisiana Universities Marine Consortium
Geoff Sinclair, Louisiana Universities Marine Consortium
Dubravko Justic, Louisiana State University
Chunyan Li, Louisiana State University
Brian Fry, Louisiana State Unviersity
Don Scavia, University of Michigan
National Oceanic and Atmospheric Administration, Center for Sponsored Coastal Ocean Research, NGOMEX09: Integrated Ecosystem Modeling of the Causes of Hypoxia (Rabalais et al.), grant numbers NA09NOS4780204 to Louisiana Universities Marine Consortium and NA09NOS4780230 to Louisiana State University.
Disclaimer: Data Quality Control and Quality Assurance
The final dissolved oxygen data will be corrected, as necessary, from linear regression with the Winkler titrations over a range of 0.22 to 8.43 mg/L. Initial observations indicate correction, but the f-factor for the Winkler standard remains to be verified. Any corrected data will be reflected in other derived measurements.
Salinity data not yet verified with PortaSal samples.
CTD data remain to be post-processed with ALIGN CTD to be applied.
Instrumentation was calibrated pre- and post-cruise according to manufacturer's specifications and standard method procedures were applied for several variables, not yet calculated, according to several LUMCON EPA-approved Quality Assurance Project Plans.
Data collected as part of process studies remain to be analyzed and synthesized.
Final QA/QC'd data will be submitted to NOAA NODC within two years of collection.