2007 Shelfwide Cruise: July 20 - July 27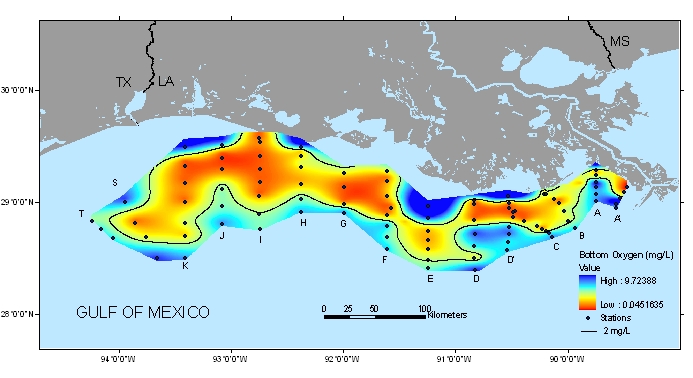 Jul 20, 2007 - Day 0
 

1900 Prep for cruise, Happy Birthday Melissa
Jul 21, 2007 - Day 1
 

0000 Loaded
0500 Fueling
0600 Depart Cocodrie
1600 Arrive Southwest Pass, Mississippi River--Calm, partly cloudy, frigate bird, bottlenosed dolphins
1800 Complete water sampling in Mississippi River--Collection of salinity gradient/nutrient concentrations, first 4 of range taken immediately, 5-6 took longer to find.
1900 Arrive A'1, collect samples, deploy towed ADCP, ADCP speed 5 kn on transects, taken out of water between transects
2300 A'3, quarter moon, calm
Jul 22, 2007 - Day 2
 

Discrepancies among Winkler, CTD and YSI 6820. Need more Winklers before plotting bottom dissolved oxygen data

2300 A'4, box core 32 m, R. E. Turner, paleoindicators
0000 A'5, strong current in deeper water

0200

A6, begin transect A, box core 39 m, R. E. Turner, paleoindicators

A5, box core28 m, R. E. Turner, paleoindicators

A4, box core 20 m, R. E. Turner, paleoindicators

A3 - A2, low oxygen, thin lens, narrow depth range

A2, box cores, M. M. Baustian, micorphytobenthos

1100 Head to transect B

B1, low oxygen, ADCP back in water, off line
B2, box cores, M. M. Baustian, ADCP back in water, ADCP back in water
B6, box cores, M. M. Baustian
Low oxygen into deeper water along transect BRan CTD, YSI and Winklers to set new configuration file for primary oxygen probe. Continue with Winkler titrations to verify new config.Rip line of Sargassum weed and associated organisms, including mahi mahi, dolphin fish. One took a hit on a lure. Lots of Sargassum crabs, Portunus sayi.
Jul 23, 2007 - Day 3
 

0130 Begin transect C in deeper water due to deeper low oxygen

Station C9B less than 2 mg/L at 32 m depth

0700 Continue transect C, low oxygen along way inshore//
0830 Complete box cores for M. M. Baustian

Lots of small portunid crabs in surface waters, Callinectes similis
Very low oxygen along transect C from C9B - C3, large Callinectes sapidus at C6B.

1200 Dive at C6C to retrieve and deploy surface and bottom oxygen meters.

Remove, replace batteries and redeploy YSI test instrument at mid depth.
Visit http://wavcis.csi.lsu.edu/ and open station CSI 06, which is also BIO2 C6C.
For some reason the surface meter is not transmitting.
The bottom meter shows the bottom near-hypoxic waters.
Successful box coring at C6B and C4 for M. M. Baustian.
Surface of C6B sediments with pennates and possibly deposited diatoms Rhizosolenia and centrics.
Note to RJD: no large macroinfauna, never are.

1930 Depart for Du2019!//
2400 Remainder of transect Du2019 and west to transect D

Bottom oxygen low on transect Du2019, below 2 mg/L on single station
Jul 24, 2007 - Day 4
 

0100 Night crew begins artistic designs on handkerchiefs for cruise participants. Great drawing of a polychaete, pennate diatom, asteroidal centric diatom, foraminiferan, Aurelia, Orca, whale, starfish, CTD, Pelican, blue (actually orange) crab, octopus, no O2 sign, bivalve. Need to pile on more work. Day shift obviously not as creative.
0200 Thin lens of low oxygen on outer end of transect D
0830 ADCP back in the water
1000 Station D4 to D3, clear water, light penetration to near bottom, high fluorescence, photosynthetic generation of oxygen in bottom waters, no hypoxia D3 complete box cores for M. M. Baustian, one live Tellina
1200 low oxygen all the way to very near shore on transect D Poagie boats and spotter planes working the area.
1600 Beginning of transect E

E1, 6 m, very clear, high chlorophyll biomass, 150% oxygen saturation.
Small hydraulic line problem, fixed.

1900 Beginning of hypoxia in 12 m, box cores for M. M. Baustian at E2A. Just hypoxic, some larger macroinfauna: echurian, Squilla, Diopatra tubes, alphaeid shrimp, small Tellina.
2200 Continuing south from station E4 with very low oxygen in bottom waters. Many crabs (Callinectes similis mostly, some Portunus gibbesii, one large female Callinectes sapidus) swimming at the surface, along with benthic eels. Pipefish from Sargassum weed in area, mahi mahi again with the Sargassum. Nigh shift is FUN!
Jul 25, 2007 - Day 5
 

Happy Birthday Kyle!

0000 Low oxygen (less than 3 mg/L) in 40 to 50 m on transect F, deeper than usual
0700 Short CTD delay

Low oxygen (less than 3 mg/L) in 30 m on transect F, deeper than usual
Oxycline at 11 to 12 m.

0800 Severe hypoxia (less than 1 mg/L) in 6 to 20 m on transect F.

Fairly clear water off the Atchafalaya until the most inshore station. High fluorescence in the near bottom waters.
Shallow depths; however, remains hypoxic. Near 2 mg/L at 5 m depth off the Atchafalaya.

1000 Storm clouds forming, winds up to 6-8 kn from 89 degrees. Drifting on station.
1200 Wind shift to 10 kn from 177 degrees following thunderstorms.

Water hyacinths and brown Atchafalaya water at station F0. Below 3 mg/L.

1500 Begin transect G from north to south. Hypoxic in 8 m at closest to shore station. Cannot go further inshore because of shallow Trinity Shoal and Tiger Shoal.

Winds picking up, 14 kn from 155degrees, waves up to 3 feet with 4-ft swells, choppy, but sunny.

1600 Station G2, still in Atchafalaya plume with green-brown water.
1800 Station G3, outside of plume with increased water transparency, Secchi disk depth about 9 m in a 20 m water column. Completed box cores for M. M. Baustian.
2200 Station G4 at 3 mg/L. Cut transect G short to do full transect on H, beginning in deeper water.
Jul 26, 2007 - Day 6
 

0000 Calming down, south end of transect H, clear water, Sargassum weed, Portunus, Callinectes, pipefish swimming at surface. Hypoxia extends close to shore.

Three quarters moon, nice on water. Jupiter and Antares close by.

0430 Hypoxia at H1, extend transect to H0.
0700 Hypoxia at I0, very close to shore.

Seas calmed with 1 ft swell, winds 8kn from 129 degrees, mostly sunny

0800 Hypoxia continues southward on transect I
0900 Strong H2S smell in bottom water from I2, Thomas gets a u2018beaku2019 full.
1000 Sharpest oxycline yet at station I3, see photo gallery
Winds continue to rise and seas along with them. Run between I3 and I4 with 20 kn winds from 107 deg. Swells up to 5-6 ft. Too rough to box core. Approaching line of thunderstorms. See radar photo.

NO WAY THIS CAN BE TRUE 

COASTAL WATERS FORECAST
NATIONAL WEATHER SERVICE LAKE CHARLES LA
1021 AM CDT THU JUL 26 2007

COASTAL WATERS FROM LOWER ATCHAFALAYA TO HIGH ISLAND TX

SYNOPSIS FOR LOWER ATCHAFALAYA TO HIGH ISLAND TX OUT 60
NAUTICAL MILES
1021 AM CDT THU JUL 26 2007

SYNOPSIS FOR LOWER ATCHAFALAYA TO HIGH ISLAND TX OUT 60 NM
A WARM FRONT...CURRENTLY EXTENDING WEST-TO-EAST ACROSS THE NORTHWEST
GULF OF MEXICO...WILL MOVE NORTH...REACHING A LINE FROM HOUSTON TO
NEW ORLEANS BY EARLY FRIDAY MORNING.

TODAY
SOUTHEAST WINDS AROUND 10 KNOTS. SEAS 2 FEET. A SLIGHT
CHANCE OF SHOWERS AND THUNDERSTORMS LATE IN THE MORNING...THEN
RAIN LIKELY AND SCATTERED THUNDERSTORMS IN THE AFTERNOON.

TONIGHT
SOUTHEAST WINDS AROUND 10 KNOTS. SEAS 3 FEET. SHOWERS
AND THUNDERSTORMS.

REALITY TODAY: 

CSI - 06
Location:Chevron Platform, ST-52B, South of Terrebonne Bay, Louisiana, Coordinates:-90u00ba29',28u00ba52'

Significant Wave Height:
4.91 ft
Maximum Wave Height:
6.24 ft

CSI - 09
Location:Grand Isle Blocks, Coordinates:89u00ba58.69',29u00ba6.09'

Significant Wave Height:
3.99 ft
Maximum Wave Height:
5.06 ft

1200 Slow moving to south against wind, swells, down from 9.5 to 6.5 kn. Captn says swells are up to 6 ft; science crew thinks they are up to 8 ft at least.
1600 Severe hypoxia (<0.5 mg/L) through most of transect I from beach to 20 m, barely below 2 mg/l in 26 m, headed south.
1800 Just above 2 mg/L in 30 m at southern end of transect I
1900 Calming down, of course, for the night shift
2000 Near or below 3 mg/l in 25-30 m at southern end of transect J
Jul 27, 2007 - Day 7
 

0000 Weather begins to deteriorate
0200 Weather deteriorates more

Extent of hypoxia across shelf narrows on transect J, move west to transect K

0700 Dissolved oxygen near 5 mg/L in 10 m nearshore on transect K
0900 Dissolved oxygen again becomes severe (<0.5 mg/L) as move south on transect K, and remains low through 30 m water depth.

Sitting in the middle of a tropical low system most of the day, with high winds, seas and thunderstorms.
Necessary to generate a new transect on the western end of the study area. Farther west than the existing transects, based on the severity and extent of hypoxia on transect K and indications of low oxygen off the Galveston-Sabine area from the earlier SEAMAP cruise.

1800 Begin transect S at 40 m (approx. 3.7 mg/L) and move shoreward.
2030 Hypoxia again at 30 m on transect S as move towards shore.

And, of course, calming down for the night shift. Sun starting to show behind thunderheads.
Jul 28, 2007 - Day 8
 

0000 Hypoxia diminishes in 20 m as move towards shore on transect S. Contours not completed.

Addition of transect T off Galveston, 3 stations in remaining time. [Perhaps these will become common in future years?]

0200 - 0500 Values very close to 2 mg/L along transect T, but able to close off oxygen isopleths
0500 Begin return to dock. Expected to be 24 hours
0700 Sun returns and seas calm. Go figure!
0900 Guess the size contest posted on galley dry board. No Cheating! [Have to figure out the prize.]

Winner was Alex, Pelican chef. Guess was 19,999. Perhaps my suggestions about possible maximum values were distracting to the science support crew. Still have to figure out the prize.

1000 sea state down for ride home, Go figure again!
2000 continued run back to Cocodrie, with a full moon showing through clearing skies
Jul 29, 2007 - Day 9
 

0300 Arrive dock
0400 Science crew has vaporized quickly (headed to homes)

ESTIMATED SIZE: 20,500 square kilometers = 7,900 square miles 

New Jersey once again has the honor
1985 - 2007 average 13,500 sq km = 5,200 sq mi
1993 - 2007 average 15,930 sq km = 6,140 sq mi
5-yr running average 10,545 = 4,065 sq mi; includes 2 low years due to hurricanes
5-yr running average without 2 hurricane years 17,330 sq km = 6,680 sq mi