Mitchell County farmers present Conservation in the Cab
By Laura Bird – Globe Gazette.com
January 3, 2015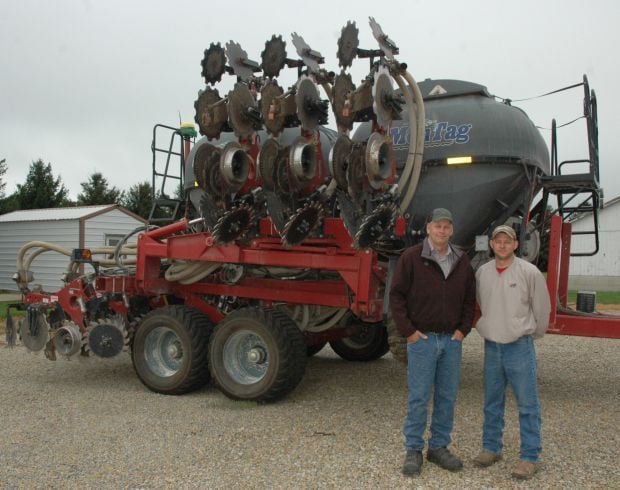 Farming around waterways, practicing strip till and Iowa's Nutrient Reduction Strategy were just some of the topics discussed as two Mitchell County farmers participated in the county's first Conservation in the Cab this fall.
Partnering with the Mitchell County Soil and Water Conservation District, Wayne Fredericks provided combine rides and Dean Sponheim gave rides while he operated a strip-till machine.
"I thought it went very well," said Sponheim, who had several members of the media ride with him.
Conservation in the Cab is part of several initiatives the Rock Creek Watershed is trying to implement to improve water quality.
"We've been planning goals for the watershed and out of that grew the necessity to create better awareness about conservation efforts, ones currently going on and ideas on how we may adjust or adapt or carry out different strategies in meeting the goals of the Iowa Nutrient Reduction Strategy," said Fredericks, who had one media member ride with him.
Iowa's Nutrient Reduction Strategy is a voluntary plan calling on Iowa farmers to improve farming practices to reduce nitrogen and phosphorous runoff, which in turn would improve Iowa's water quality and reduce the Dead Zone in the Gulf of Mexico.
"It's not just a farm issue, it's the general public's," Fredericks said.
"Farmers have made great strides," he added. "There's still work to be done, but we try to show the great strides that farmers have made already."
During combine rides with Fredericks, he spoke about conservation practices on his land and how farming can work around waterways.
During his rides, Sponheim spoke about strip till and other conservation practices on his farmland.
Strip till involves tilling an 8-inch band of soil and then planting the seed in the tilled soil next spring. With Sponheim's strip till machine he is also able to apply fertilizer down 7 or 8 inches while tilling the soil.
The advantage to strip till is that 70 to 75 percent of the soil remains undisturbed, which helps prevent soil erosion and nutrient loss.
Sponheim said he's been practicing strip till since 1999 and with a variety of machines over the years. Today's strip till machinery does well.
"I really like it," he said. "It eliminated the number of trips across the field for us. It also increases soil organic matter because of less tillage of the soil. It just makes a lot of sense for me."
Both Sponheim and Fredericks are more than happy to share their stories so other farmers will think about employing similar practices and so the general public knows that farmers are trying to improve what they do.
"I think the concept is great," Fredericks said.
While both men were disappointed none of their fellow farmers participated in a ride-along, they realize that is going to be difficult to achieve since other farmers are busy when they are, too.
"I'm not sure how we can change that process to make that work better," Fredericks said. "I think we have a better opportunity with this concept in getting non-farm people, legislators and the press. I think we could be more successful with them."
Sponheim added landowners to the list of people he'd like to target with Conservation in the Cab.
Both men and the Mitchell County Soil and Water Conservation District plan to team up again next year to offer more Conservation in the Cab events, including the possibility of spring ride-alongs.
"I think we'll do it every year," said Kari Gardner, district project coordinator for Mitchell County SWCD. "We have to start somewhere. I think the more that we can advertise it and get the word out and intrigue some people, the better it will do."
http://globegazette.com/news/local/mitchell-county-farmers-present-conservation-in-the-cab/article_7ae3e7d9-b2da-59a0-b87a-4e26d3caca52.html