Coast Guard closes Mississippi River at St. Louis
By Jacob Barker – St. Louis Post-Dispatch
December 29, 2015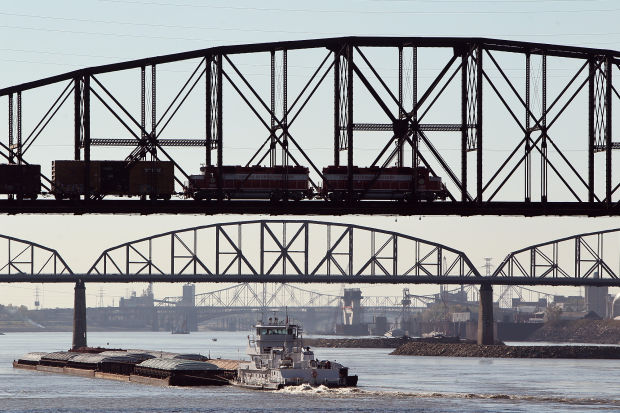 Overlooking the South Harbor construction site at America's Central Port in Granite City, Ill., located on the Mississippi River south of Locks No. 27, a barge and tug and train cross paths Monday, October 24, 2011. Photo by Erik M. Lunsford elunsford@post-dispatch.com
Citing high water and fast currents, the U.S. Coast Guard closed a portion of the Mississippi River near St. Louis to barge traffic.
The Coast Guard's Capt. Martin Malloy, Upper Mississippi River Captain of the Port, decided to close the river at around 11 p.m. Monday, a spokesman said Tuesday. The closure spans the city's riverfront, stretching from just north of the Merchants railroad bridge to the MacArthur railroad bridge.
Coast Guard spokesman Lt. Sean Haley said many barge operators anticipated the closure.
"A lot of feedback we're getting is they ceased their operations even before the captain of the port was forced to close the river," he said.
He said only that the Mississippi would reopen "as conditions improve." The river is expected to crest at 43.7 feet near St. Louis on Thursday. That would be second only to the 49.6-foot crest in 1993.
Haley said the coast guard is closely monitoring the Illinois River and stretches of the Mississippi river further south of St. Louis, but that it has no plans to close other stretches of the river yet.
The Mississippi River at Cape Girardeau is projected to crest at the same level of 1993 by this weekend. The Mississippi river at Chester, Ill. is also projected to hit 1993 crest levels by Friday.
The U.S. Army Corps of Engineers on Tuesday shut down Lock and Dam 24 near Clarksville and Lock and Dam 25 near Winfield, north of St. Louis.
That followed the shutdown on Monday of Lock 27 near Granite City and the closure on Sunday of the Mel Price Auxiliary Lock Chamber near Alton. The Corps also closed the Jerry Costello Lock and Dam in Randolph County, Ill., on Sunday.
Source: http://www.stltoday.com/business/local/coast-guard-closes-mississippi-river-at-st-louis/article_bf12882c-c428-5418-b3c7-b6b0671f19f5.html